Build your home a clean slate with our exclusive products!
Snap Dishwashing Liquid
sku C6203
$16.65 CAD
This product qualifies for free or reduced cost shipping. Learn More
Benefits
---
Cuts through grease and oil
Leaves dishes sparkling clean
Long-lasting suds clean until the last dish is done
Contains aloe vera to keep hands soft
Safe for fine china, everyday china, wine glasses and pots and pans
Makes a great liquid hand soap
Phosphate-free
Non-toxic
Biodegradable
Made of plant-based surfactants

Details
---
Snap Dishwashing Liquid is a superior cleaning formula that cuts through grease and grime, leaving your dishes sparkling clean. Snap Dishwashing Liquid is formulated with aloe vera gel, to pamper your hands while cutting through even the toughest mess. Snap Dishwashing Liquid is safe for all your pots and pans, fine china, everyday china and wine glasses. Snap Dishwashing Liquid can also be used as liquid hand soap. Snap Dishwashing Liquid is an environmentally-friendly dishwashing solution with biodegradable, non-toxic, phosphate-free and plant-based surfactants and essential oils. Make dishwashing a SNAP with Snap Dishwashing Liquid.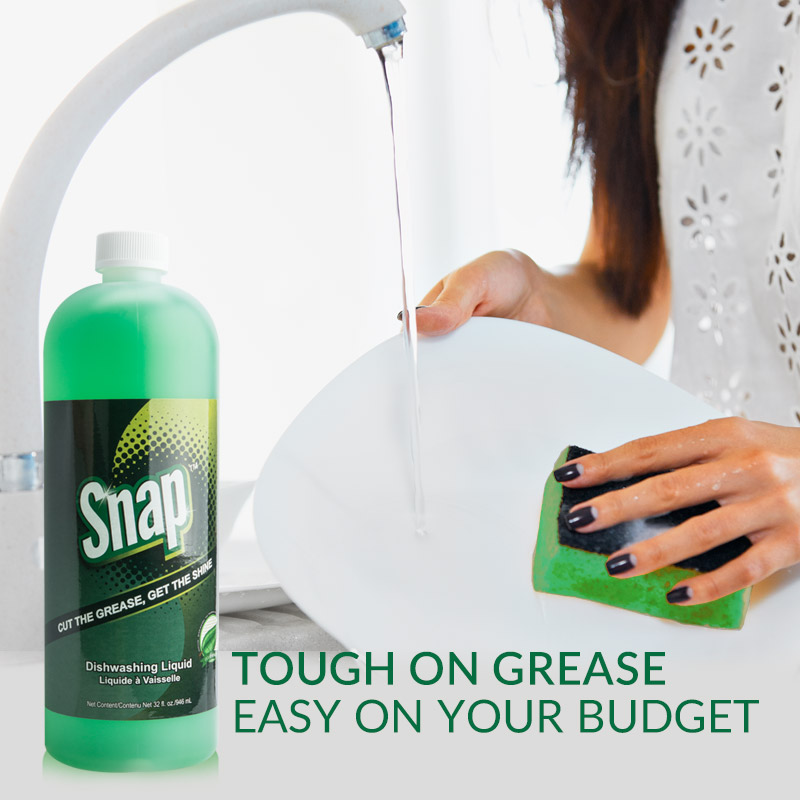 Reviews
---
Great kitchen helper
Such a great kitchen helper that we could wash off stains and grease without hurting our precious hands!
Snap Dishwashing Liquid
This is a great product.
Mild but powerful
This does a really great job of getting rid of grease and baked-on food without leaving any residue on my dishes. My glassware comes perfectly clear. It doesn't damage non-stick coating on pans or bakeware. You only need to use a tiny bit of soap on your sponge because it's concentrated. I like knowing it's biodegradable and non-toxic so I'm not adding to the problems of public water works, and I take it with me for washing dishes while camping because it's "green" and won't hurt the woods. :) This big bottle will last me many months. (I live alone so I don't have piles of dirty dishes after each meal.) I also tend to have dry hands and this soap doesn't dry out or chap my hands.
Amazing
no smell, cleanses dishes well
Love it
I love the way ir cleans... The way it smells... The suds...and gow it feels on my hands